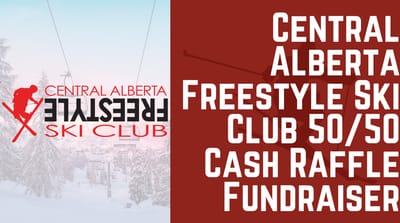 Thank you for your support. The 50/50 is now over.
We raised a total of $6,490. The winner, Nicole Colenutt (ticket #3068), getting half of the jackpot at $3,245. Congratulations Nicole!
Draw date: February 3, 2022
Central Alberta Freestyle Ski Club is excited to announce our online raffle 50/50 fundraiser! Grab your tickets now!
Funds raised by this raffle will support facility improvements and equipment and coaching fees.
The winner will receive a cash prize of 50% of ticket sales up to a maximum of $10.000. The winner will be contacted to claim their prize by phone and email.
Get all the details and purchase your tickets:
rafflebox.ca/raffle/cafsc
Good Luck!